Remember this guy: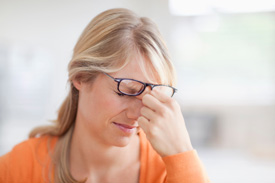 36 year old patient of mine who revealed he's been dealing with chronic, recurring headaches for years.
Here's the update: 1 month and 3 treatment visits later, his headaches are much improved.  We started with one treatment per week for the first two weeks, followed by a third treatment two weeks later.  At each of the first two treatments, he revealed that his headache severity and frequency had already been reduced.  At the third treatment two weeks later he explained that he tried to last a full two weeks between visits but his headache returned during the second week.  We've agreed to try two weeks between visits again to see how long he can last between visits.
Bottom line is this:
His headaches are reduced in frequency and severity with just a couple visits.
In related news, another patient of mine who visits me infrequently came in a few weeks ago because his work schedule lightened up freeing up his time.  His job demands he look up throughout the day to communicate with his coworkers.  It's a lot of strain on the neck, and as a result he suffers with neck pain and headaches.  I've treated him three times in the past three weeks (one per week).  His headaches are gone, his neck pain improved, and his typical daily medication use has been eliminated.
Bottom line is this:  Spinal manipulation, soft tissue techniques, and exercise advice works to reduce neck pain and headache frequency and severity.
Are you suffering?  Call or email me now!  Let's get you feeling better.